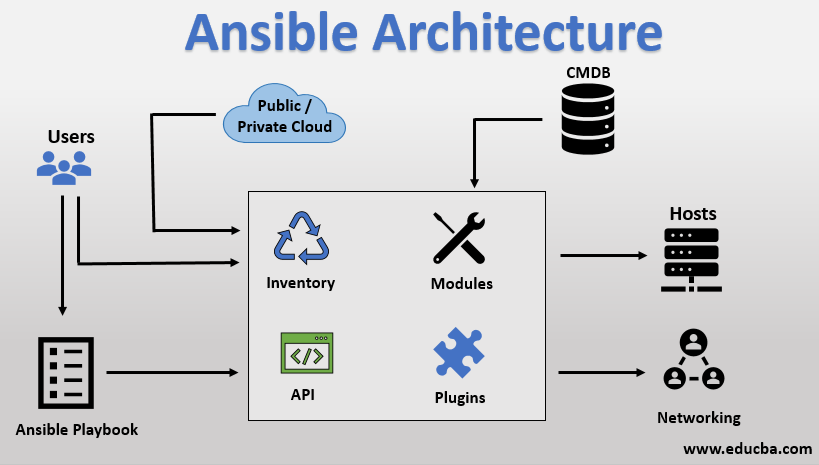 Introduction to Ansible Architecture
Architecture of Ansible
Ansible architecture is easy to understand: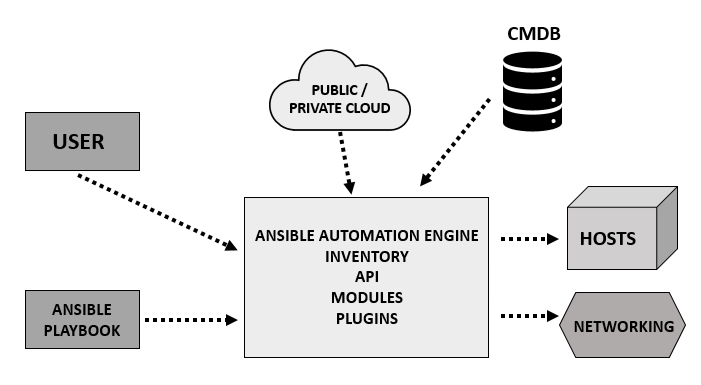 From the above diagram visibility comes into the picture:
Users: Users who create Ansible playbook has a direct connection with ansible automation Engine.
Ansible playbook: It also interacts with the ansible automation engine and configuration Management Database
Public or Private cloud: They help in interacting with all the modules and API with this but also with the entire cloud which proves that it has security measures as well.
Inventory: Inventory which is a part of the automation engine helps in provisioning and internal provisioning using automation.
API: It helps in creating necessary API for the interaction of end to end modules.
Modules: The modules are directly run using playbooks the modules can control all services, packages, AWS cloud formation, etc.
Plugins: All necessary cache, logging purpose, ansibles functioning all help in creating augmented ansible's core.
Networking: It helps to automate different networks that make use of all agentless frames and generate useful configurations.
Hosts: Hosts here refers to the machines like Linux or Unix machines which are getting automated using Ansible.
CMDB (Configuration Management Database): It is a kind of repository that consists of an entire network of computers of operational or IT infrastructure.
Advantages of Ansible Infrastructure
Following are the advantages explained.
Easy and Understandable: Ansible is very simple and easy to understand and has a very simple syntax that can be used by human-readable data serialization language. It is very good for beginners to understand especially for those who design infrastructure.
Powerful and Versatile: it is a very powerful and versatile tool that helps in real orchestration and manages the entire application or configuration management environment.
Efficient: It is very efficient in the sense it can be customized according to your need like modules can be called with the help of a playbook for where the applications are deployed.
Agentless: Completely independent tool without the use of third-party vendors or agent's software and agentless.
Provisioning: Applications in need of orchestration get a total aid from ansible as it helps in provisioning of resources according to the need of the project requirement.
Application Deployment: Easy for teams to manage the entire lifecycle from development to deployment.
Orchestration: ONAP orchestration and all cloud-native platforms very well make use of ansible tool in its use.
Secured: Security is the key to maintain the ansible infrastructure as all applications require it to get applications free from security breaches.